Whisleblower - Klein: Soros-funded group: Progressives won midterms, Calls on Obama to govern via EO to push agenda
GEORGE SOROS AND HIS EVIL EMPIRES – part 2
Aaron Klein, Jerusalem bureau chief for World Net Daily, writes from New York:
It was progressives who won the midterm elections, particularly a socialist-founded Congressional caucus that emerged from last week's ballots virtually unscathed, noted an article published by the George Soros-funded Institute for Policy Studies, or IPS, a Marxist-oriented think tank in Washington, DC.
The article goes on to recommend that President Obama govern from executive order to push through a progressive agenda.
"Progressives won in the 2010 mid-term elections," wrote Karen Dolan, a fellow at the Institute for Policy Studies and director of the Cities for Progress and Cities for Peace projects based at the radical organization.
"The Congressional Progressive Caucus, the largest caucus in the House Democratic Caucus at over 80 members, emerged virtually unscathed, losing only three members," she wrote, in the piece published on the IPS website.
"By contrast, the conservative Blue Dog Democratic caucus was more than sliced in half from 54 members to only 26. Further, of the 34 conservative Dems who voted against Obama's Healthcare Reform, a mere 12 won re-election," she wrote.
Dolan declared that "our work is now finally beginning."
"The veil of a happy Democratic governing majority is finally lifted. We didn't have it then; We don't have it now. But what we do have now is a more solidly progressive bunch of Dems in Congress and a president presumably less encumbered by the false illusion that playing nice will get him a date with the other team."
She went on to recommend that progressives "throw our support unabashedly behind the Congressional Progressive Caucus and let's push Obama to finally do the right thing through as many Executive Orders as we can present to him."
WND previously reported the Congressional Progressive Caucus, which boasts more than 80 members, was founded by the Democratic Socialists of America, or DSA.
Almost all caucus members were victorious in their respective elections last week, with a few notable exceptions. Rep. Carolyn Cheeks Kirkpatrick, D-Mich., was defeated in her primary. Reps. Alan Grayson of Florida's 8th District, John Hall of New York's 19th District and Phil Hare of Illinois' 17th District all came up losers. Hall and Hare are two-term incumbents while Grayson is a freshman.
Hare drew national attention earlier this year when he was captured on videoby a constituent admitting that when it comes to health care reform, he doesn't "worry about the Constitution."
Working within Democratic Party
Demonstrating the close relationship between the DSA and the Progressive Caucus, two weeks ago WND reported the Democratic chairman of the powerful House Judiciary Committee was caught on tape meeting with DSA leaders to discuss how the group can cooperate to strengthen President Obama and advance their "one-world" plans.
Rep. John Conyers, D-Mich., who has a long history with the DSA, was recorded promoting a "one-world" government while asking the socialist group to organize against the war in Afghanistan and in support of Obama's policies.
Conyers was a special guest at a two-day convention in Detroit in March 1982 that resulted in the formation of DSA.
Conyers has spoken at numerous DSA events, including at the socialist group's national dinner in 2008, where he was the keynote.
Conyers was one of 13 founders of Congressional Black Caucus, which long has promoted far-left causes. He is the most prominent lawmaker lobbying to free Mumia Abu-Jamal, the convicted murderer of a Philadelphia police officer. He has advocated on behalf of the Marxist Nicaraguan Sandinista dictatorship and has called for the U.S. to end its sanctions against Fidel Castro's communist regime.
The DSA has been linked closely to the Democratic Party's Progressive Caucus.
Until November 2002, the website of the Progressive Caucus was hosted by the DSA. Following news reports that drew attention to the congressional website being hosted by the socialist organization, the list of CPC names was moved to the website of Sen. Bernard Sanders, I-Vt., an avowed socialist, and eventually to its own site.
The Democratic Socialists of America's chief organizing goal is to work within the Democratic Party and remove the stigma attached to "socialism" in the eyes of most Americans.
"Stress our Democratic Party strategy and electoral work," explains an organizing document of the DSA. "The Democratic Party is something the public understands, and association with it takes the edge off. Stressing our Democratic Party work will establish some distance from the radical subculture and help integrate you to the milieu of the young liberals."
With research by Brenda J. Elliott
A list of Congressional Progressive Caucus members is on the next page.
Here is a list of Congressional Progressive Caucus members:
Raúl M. Grijalva (AZ-07); won re-election
Lynn Woolsey (CA-06); won re-election
Diane Watson (CA-33); Replaced by Democrat Karen Bass
Sheila Jackson-Lee (TX-18); won re-election
Mazie Hirono (HI-02); won re-election
Dennis Kucinich (OH-10); won re-election
Neil Abercrombie (HI-01); chose not to run; replaced by Democrat Colleen Hanabusi
Tammy Baldwin (WI-02); won re-election
Xavier Becerra (CA-31); won re-election
Madeleine Bordallo (GU-AL); won re-election
Robert Brady (PA-01); won re-election
Corrine Brown (FL-03); won re-election
Michael Capuano (MA-08); won re-election
André Carson (IN-07); won re-election
Yvette Clarke (NY-11); won re-election
William "Lacy" Clay (MO-01); won re-election
Emanuel Cleaver (MO-05); won re-election
Steve Cohen (TN-09); won re-election
John Conyers (MI-14); won re-election
Elijah Cummings (MD-07); won re-election
Danny Davis (IL-07); replaced by Democrat Andre Carson
Peter DeFazio (OR-04); won re-election
Rosa DeLauro (CT-03); won re-election
Donna F. Edwards (MD-04); won re-election
Keith Ellison (MN-05); won re-election
Sam Farr (CA-17); won re-election
Chaka Fattah (PA-02); won re-election
Bob Filner (CA-51); won re-election
Barney Frank (MA-04); won re-election
Marcia L. Fudge (OH-11); won re-election
Alan Grayson (FL-08), lost to Republican Daniel Webster
Luis Gutierrez (IL-04); won re-election
John Hall (NY-19), lost to Republican Nan Hayward
Phil Hare (IL-17); lost to Republican Roger Schilling
Maurice Hinchey (NY-22); won re-election
Michael Honda (CA-15); won re-election
Jesse Jackson, Jr. (IL-02); won re-election
Eddie Bernice Johnson (TX-30); won re-election
Hank Johnson (GA-04); won re-election
Marcy Kaptur (OH-09); won re-election
Carolyn Kilpatrick (MI-13); replaced by Democrat Hansen Carter
Barbara Lee (CA-09); won re-election
John Lewis (GA-05); won re-election
David Loebsack (IA-02); won re-election
Ben R. Lujan (NM-3); won re-election
Carolyn Maloney (NY-14); won re-election
Ed Markey (MA-07); won re-election
Jim McDermott (WA-07); won re-election
James McGovern (MA-03); won re-election
George Miller (CA-07); won re-election
Gwen Moore (WI-04); won re-election
Jerrold Nadler (NY-08); won re-election
John Olver (MA-01); won re-election
Ed Pastor (AZ-04); won re-election
Donald Payne (NJ-10); won re-election
Chellie Pingree (ME-01); won re-election
Charles Rangel (NY-15); won re-election
Laura Richardson (CA-37); won re-election
Lucille Roybal-Allard (CA-34); won re-election
Bobby Rush (IL-01); won re-election
Linda Sánchez (CA-47); won re-election
Jan Schakowsky (IL-09); won re-election
José Serrano (NY-16); won re-election
Louise Slaughter (NY-28); won re-election
Pete Stark (CA-13); won re-election
Bennie Thompson (MS-02); won re-election
John Tierney (MA-06); won re-election
Nydia Velazquez (NY-12); won re-election
Maxine Waters (CA-35); won re-election
Mel Watt (NC-12); won re-election
Henry Waxman (CA-30); won re-election
Peter Welch (VT-AL); won re-election
Robert Wexler (FL-19); replaced by Democrat Tee Deutsch
TSA Sheeple Experiment Successful – Next Phase of America's Imprisonment Begins
December 29, 2010, 2:26 pm By Sher Zieve
There once was a time–not so very long ago–when what I am about to write would be consigned to the "tin-foil hat" group;  that classification that says all who participate are "loonies" and/or "kooks."  But, that was before The Obama rose to power in the United States of America.  And that was, of course, before Obama & Co (funded heavily by he-who-says-he-is-god George Soros) began the systematic dismantling of the USA, the cessation of our Constitutional liberties and freedoms and the intense preparations for our enslavement and imprisonment began.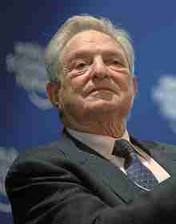 Note: On 3 June 1993, Soros told The Independent News:  "If truth be known, I carried some rather potent messianic fantasies with me from childhood, which I felt I had to control, otherwise they might get me into trouble.  It is a sort of disease when you consider yourself some kind of God, the creator of everything, but I feel comfortable about it now since I began to live it out."
During the TSA gropings (the term "pat-downs" is way too mild for what they actually affect) began to be inflicted upon the American public (but apparently only one segment of said public) in the nation's airports.  If you will notice–from the myriad YouTube videos that have appeared, only non-Muslim, non-minority American adults and their children seem to be groped by TSA Agents.  And, as actress and entertainer Christine Ebersole advised when she has been–on several occasions–groped by female TSA Agents, she felt as though she was being forced into submission by prison guards and that we have now moved into tribal law.  After one of Ebersole's experiences, in which she refused to be touched by a TSA Agent, the Agent told her that she shouldn't fly anymore and that she–the Agent–could call the police at any time and have her (Ebersole) removed…and we assume jailed.  Tragically, as few have complained (and parents have even allowed their children to be groped!) the TSA sexual groping of only non-Muslim and–at least predominantly–non-minority US citizens are subject to said groping, the suspension of the US Constitution's 4th Amendment (and a few others) has been successful.  Now, the Stalinist/Hitlerian ObamaGov has moved to its next phase of our enslavement.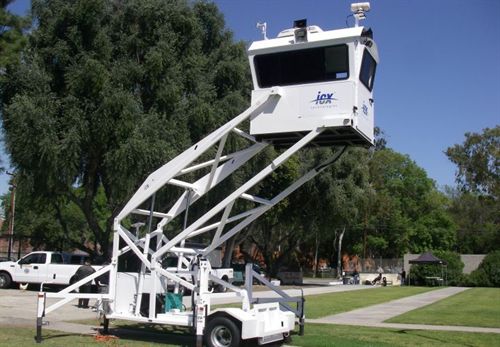 ICX Sky Watch tower, photo: policemag.com
In various parts of our country (including a number of locations in North Carolina), towers resembling prison guard towers are being erected–some if not most in large Wal-Mart parking lots.  The company erecting them is ICX Technologies, which–from its website–builds "mobile observation towers,  provide a high level platform for an array of surveillance options" and "mobile perimeter surveillance platform capable of rapid deployment."  Oh and, by the way, guess from where the money for these came.  Wal-Mart you say?  Not even close.  The money comes from the federal government and Obama Stimulus money (his "stash") that was originally stolen by the usurper and dictator from you–the taxpayer.  In other words, We-the-People are now paying for our own imprisonment.  No wonder Obama continues to laugh and smile.
Under The Obama regime, Conspiracy theories are not theories and–to quote Rev. Wright–the Obama subjugations (without strong opposition from the American people) are now "comin' home to roost."  That one fateful election in 2008 had the most dire consequences ever to befall our nation.
Still think those recently refurbished FEMA camps and the ObamaGov's military ads for "Internment Resettlement Specialists" are nothing to worry about?  Really?
TSA gropes Children and Adults:
1. http://www.youtube.com/watch?v=d0HF_Kw2yws
2. http://www.youtube.com/watch?v=VN6pJ7nP1yA
3. Ebersole's story:  http://www.youtube.com/watch?v=tc6uMEE7WXU
4. http://blog.ncpad.org/2010/12/06/woman-in-wheelchair-strips-down-to-lingerie-gets-enhanced-tsa-pat-down-anyway/
Mobile Prison Guard Towers Coming to a Wal-Mart near You:
http://video.godlikeproductions.com/video/Mobile_Prison_Guard_Towers_Coming_to_a_Walmart_near_You_Unbelievable
ICX Surveillance and Tactical Platforms:
http://www.icxt.com/products/icx-surveillance/integrated-platforms/
George Soros says he's god:
http://www.plaintruth.com/the_plain_truth/2010/11/read-the-glenn-beck-tv-background-guide-to-george-soros.html
Puppet Master Soros:
http://www.youtube.com/user/KAOSKTRL#p/a/u/1/W7t1y4Tjl0Q
Internment Specialist Guard Ad:
http://www.military.net/job/639/Internment+specialist
HR 645: Congress Seeks to Authorize & Legalize FEMA Camps:
http://www.dailypaul.com/node/80801
---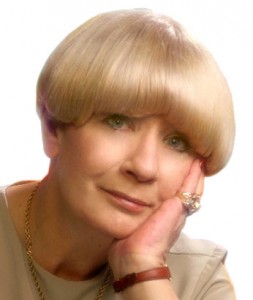 Sher Zieve is an author and political commentator. Zieve's op-ed columns are widely carried by multiple internet journals and sites, and she also writes hard news.
Her columns have also appeared in The Oregon Herald, Dallas Times, Sacramento Sun, in international news publications, and on multiple university websites. Sher is also a guest on multiple national radio shows.
Sher can be reached at Sher_Zieve@yahoo.com.
Images added by Gulag Bound